Learn more about our flexible pathway options to gain entry into Murdoch University.
Why attend?
Hear about our enabling programs, OnTrack, FlexiTrack and Horizons Summer School, as well as Portfolio Entry and more. We'll help you find your place at Murdoch University and support you along the way.
Explore how your TAFE qualification (Certificate IV or higher) can get you into university
Learn more about the Kulbardi Aboriginal Centre and the additional academic, social, cultural and emotional support networks available to Aboriginal and Torres Strait Islander students. This includes hearing about our award-winning K-Track program
Find out about the Portfolio Entry Pathway
Learn more about Law Start, an admission pathway for those students who wish to study Law at Murdoch University
Hear first-hand from our students who came through our enabling programs and are now studying in their chosen fields
Ask questions about the application process, scholarships and support services.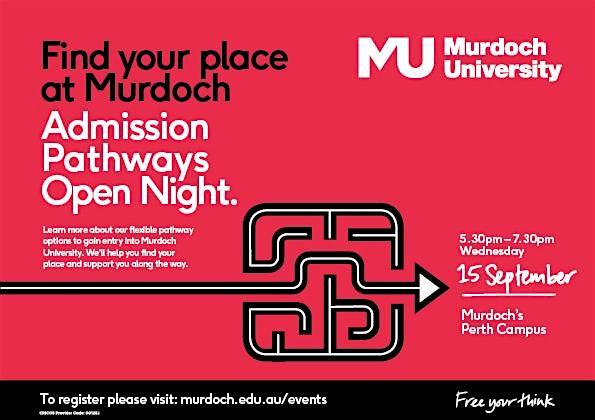 If you have any queries regarding the event, email engage@murdoch.edu.au.
*The location of the event will be released closer to the date.
The safety and wellbeing of our community is the number one priority for Murdoch University. We will continue to adhere to current State and Federal Government restrictions to provide an experience that enables us to celebrate in a safe manner. Prior to the ceremonies, we will provide you with information on the steps we are taking to provide this experience and how you can help us ensure the safety of our community.
Please note: If you are below 16 years of age, you will need a parent or a legal guardian to register on your behalf for this event.